Just a few weeks ago, we were live at the Salone del Mobile International Fair which took place between 9th April 2019 to 14th April 2019. We traversed the city of Milan in search of the latest designs, installations, collaborations and conversations with architects, designers and architects, designers, enthusiasts and industry experts.
The highlights at the 58th edition of Salone del Mobile was the debut of two temporary installations to commemorate the Italian Renaissance master with the fair coinciding with the quincentennial of Leonardo da Vinci's death.
AQUA.  Leonardo's Vision
With the focus on water, event organizer Marco Balich of  Balich Worldwide Shows created a wunderkammer (translated as room of wonder) where visitors experienced water in all its many forms, shapes and beauty. The Fair organisers chose the Conca dell'Incoronata and the water as the protagonists. Water plays a starring role – as an element that Leonardo explored as an artist, an architect, a scientist and an engineer.  AQUA. Leonardo da Vinci's Water Vision was a homage to his multifaceted genius and design skills.
The second installation "De Signo. The Art of Italian Design Before and After Leonardo da Vinci" was created by Davido Rampello, the curator of Pavilion Zero at Expo Milano 2015 and Italian architect Alessandro Colombo sited in the Rho fairgrounds. This exhibit illustrated da Vinci's approach to design, featuring two 20-foot by 10-foot access portals handcrafted out of wood and modeled after drawings by Bramante, a contemporary of da Vinci.
More memorable takeaways from the fair were the design showcases of some notable designers including:
ZANOTTA.
Urban passion was Zanotta's theme for the year; designed to give the impression of looking in through a partly open window. Their furniture was set against different backdrops of popular cities in the world. Berlin, Barcelona, Paris, New York, Shanghai and Rome make for six fascinating scenarios in which different urban landscapes inspire furnishing solutions that reflect their respective metropolitan identities.
Known for producing iconic pieces, Zanotta debuted several new product collaborations including Echino glass tables by Sebastian Herkner, Tusa armchairs by Rodolfo Dordoni, a small armchair by Constance Guisset, and a series of tables by Pierre Charpin. The design company also celebrated the 50th anniversary of launching the Sacco beanbag chair at its Milan showroom.
HERMES.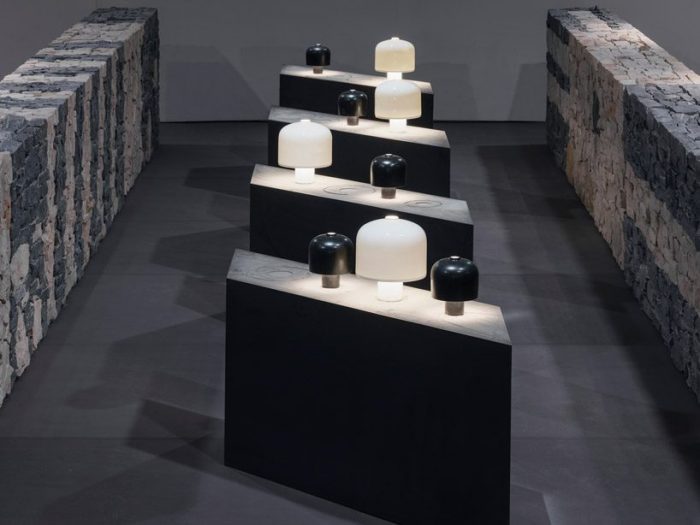 The theme for this year was "Raw Material". Hermes exhibition was a play of natural materials in all their forms. Stones stacked into a maze-like arrangement that served as a more natural and minimal backdrop to the new collection. This setting against the dry stone walls helped highlight the colours and the richness of the materials. Our favorite feature was the 'sandbeds' (made out of burnt wood reduced to ash) on which their decorative pieces were placed. 

A SPACE FOR BEING.
"Design affects everything"- Ivy Ross, Google's Vice President for hardware design. Google Design Studio collaborated with Reddymade Architecture, Muuto and the International Arts + Mind Lab at Johns Hopkins University, Brain Science Institute, to create an installation that demonstrates the possible implications of the body's reaction to certain environments. Visitors moved through three rooms, spending five minutes in each while wearing a waistband that measured heart rate, sweat and other factors. At the end of the experience, everyone received a print out that indicated which room had the most calming effect based on their body's reactions to the space. If nothing else, it made people slow the breakneck pace of Milan Design Week. It was a truly memorable experience.

ARPER.
Italian brand, Arper's theme for this year was about mindfulness. Living in the digital era that demands our constant attention and dwindling attention span, people crave zen, softness and balance hence the theme for this year, Soft(er). An emphasis on well-being and the creation of flexible, comfortable spaces is at the core of the Soft(er) ethos, and personified by the release of Cila Go, Planesit and Stacey. Arper recognise that the quality of space has an impact on everything, from health to productivity, creativity to collaboration, and so on; as we look for places that can offer us comfort, authenticity, care, inspiration.
Life in Vogue. 
Eight designers were tasked with redesigning Vogue Italia's Milan office and were each given a theme. Our favorite installation was the "Editor-in-Chief Room" designed by Faye Toogood. The celebration of openness and inclusivity are at the core of the refurbishment of Vogue Italia Editor-in-Chief Emanuele Farneti's room.
Vitra, IOC, Dedon, Alias, Poliform, DCeditions, Stem and many more also put up fascinating installations that would be remembered for a long time. See you at next year's fair.
Adios!